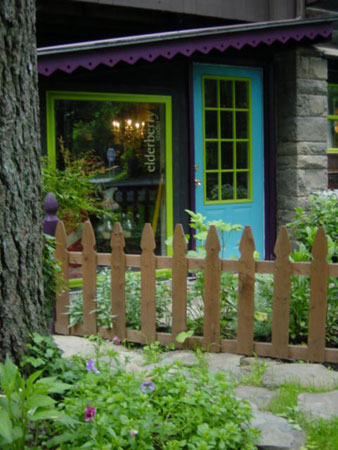 JIM WILLIAMS grew up in upstate New York near Syracuse and attended Syracuse University where he studied art. While teaching high school art he began doing freelance crafts design for magazines. Soon he was invited to join the staff of Meredith Corporation in Des Moines, Iowa where he designed and edited in books, then for 100's of Needlework and Craft Ideas, Holiday Crafts and Christmas Ideas, and finally as crafts editor for their flagship publication Better Homes and Gardens with a circulation of over 8 million. here he oversaw all crafts, Christmas and tabletop editorial story production, photo shoots and styling.
After moving to New York for a brief stint as a creative director for a small lifestyle magazine, Jim revisited his freelance design work for various publications.
ARNIE MILLER grew up in upstate New york as well, near Troy and the rural Berkshire Mountains of Massachusetts. After years of commercial managerial work, he brings to Elderberry an extensive business background, including catering and event coordination for the state of New York. In fact, he participated in the arrangement for the wedding of then Governor Mario Cuomo's daughter.
In addition to event planning and production, Arnie is responsible for much of the look of the Elderberry compound, from the renovation of the house, and shop to the grounds, woodland pond and gardens.
Jim moved to Woodstock from New York City where he opened Elderberry Studio as a showcase for his original crafts designs, art and antiques. In 2006 he added floral design into the mix, and his designs for weddings and special occasions have grown each year. Antiques and crafts, though still present in the quaint shop space, have become more atmosphere and ambiance with flowers as the major emphasis. Today, he is much in demand for his refreshingly casual yet elegant floral design.
Elderberry has been featured nationally in Country Home and Cottage Style magazines, as well as several local publications and the flower gardens they've created have been featured in numerous garden tours.
Media:
Country Home magazine, March 2004
Cottage Style magazine, 2006
Hudson Valley Inside Out magazine, May june 2006
Hudson Valley Home, 2007
Cottage Style magazine, 2013